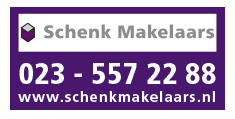 Die Herausforderung
Schenk Makelaars is an independent local estate agency with an active, expert team of young and experienced employees. We are involved on a daily basis in commercial property in which, as an independent office, the emphasis is on advice in the leasing/letting and sale/purchase of commercial real estate.
Ein Projekt von SuperOffice Benelux (www.superoffice.nl)
Schenk Makelaars starts looking for a new CRM system because its current application no longer provided updates and support. The system was becoming more and more unstable and slow and all of the benefits of working with a CRM system were being negated. Based on current requirements and wishes an external party was engaged to find a new CRM solution for Schenk Makelaars. SuperOffice offered the correct functionality and a fact-finding visit to a comparable estate agency proved to be the deciding factor.
Die Lösung
Since April 2013 all of the employees of Schenk Makelaars have been working with SuperOffice. The configuration of the system has been adapted to the work processes, which ensures that information is only entered once.
Many projects and files are used regularly within the estate agency. These are now accessible to all employees. With the use of selections it's possible to analyze the correct target group. Sending out newsletters with "SuperOffice eMarketing" is therefore very straightforward. With the use of templates the corporate logo is now embedded in all communication.
Der Erfolg
SuperOffice has risen to the challenge as a stable and reliable partner.
Clearly there are a great many possibilities in SuperOffice but it was a conscious decision to go for step-by-step implementation. The point of this is not just to purchase a system, it revolves around creating added value for the client! A link to the website with properties for lease or for sale are planned as a next requirement. SuperOffice has also designated the correct partner to achieve this. "Schenk Makelaars is an active agency and with SuperOffice we are able to respond to the demands of the market and improve our client loyalty", states Almar Bouwman, co-owner.
Der Kundennutzen auf einen Blick
• All input in one system
• Corporate logo embedded in all communication
• Projects and files at a glance