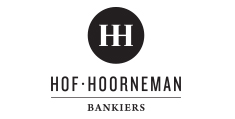 Die Herausforderung
Hof Hoorneman bank focuses on capital management. A team of experts works towards the growth of the capital of our clients.
Ein Projekt von SuperOffice Benelux (www.superoffice.nl)
Until 2001 we worked with a DOSbased system. It was difficult to convert the data to a Windows environment. A requirement for changing to a new CRM application was that the application should be Windows-based. Our goal was an integrated CRM system to further optimise client satisfaction.
We are very positive regarding SuperOffice. We compared three CRM suppliers and decided that SuperOffice was the best program for us. The SuperOffice functionality came out as the best when compared with packages from competing vendors. A reference visit to another company in the banking industry ensured we had a good impresion of SuperOffice.
Die Lösung
In 2001, at the very start, we had SuperOffice customised based on our requirements. The links to our back office software ensured we had all our clients' data available in SuperOffice.
When a client calls, we just click a few buttons and immediately know the client's accounts, the exact content of their investment portfolio and the performance of the portfolio. We can also use a link to generate a report based on up-to-date data. The monitoring of the activities per period ensures that our clients all receive the attention they deserve. The account managers can also be steered based on this information. We set the legal structure in SuperOffice in detail so that employees understand the information intended for them.
Der Erfolg
Having the data available fast is essential for a bank such as ours. All employees have to be able to see which actions have been undertaken for a client, within a large database of relations.
The fact that in the SuperOffice CRM program all conversation annotations are easily found has, therefore, a positive effect on our work. New employees at Hof Hoorneman can identify the client within 2 to 3 seconds, even on their very first day.
SuperOffice is the central access point to our clients and maintaining separate Excel sheets and large piles of paper is no longer part of our working method. The SuperOffice philosophy has remained unchanged: "Power based on simplicity". This motto is evident in the client contact and the employees are enthusiastic about the product. This all results in mutual trust.
Andere relevante Referenzen